We recognize that all of our patients are unique and deserve to receive dental care that reflects their individual needs. Our experienced and talented dental team is committed to working with you and your family to create a comfortable, stress-free, and rewarding dental experience every time you visit our practice.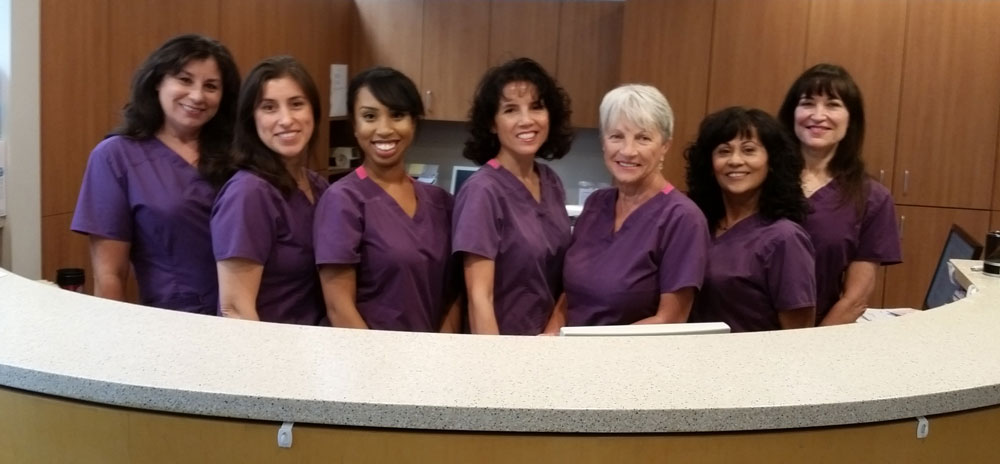 We are pleased to welcome you and your family, and we look forward to working with you.
---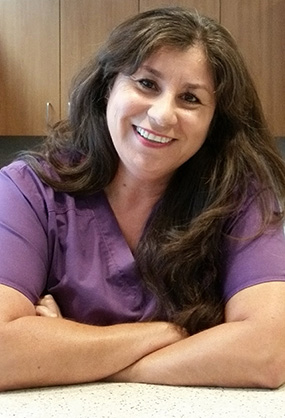 Arlene
Patient Coordinator
Our patients can find me at the front desk, where I schedule appointments, coordinate billing, and assist in taking X-rays. I began my journey in dentistry in 1982, graduating from Hacienda Dental School with my certification in dental assisting and X-ray license. Since joining this office, I have found my second home. Our patients and my teammates are like my second family. I feel so fortunate to spend my days watching our youngest patients grow up, listening to their stories, and fostering friendships with our patients.
I have lived in Covina for the last 20 years with my husband of 25 years, John. We have three sons, Anthony, Matthew, and John, and two grandchildren. We also have a dog named Lucky. In my free time, I enjoy hiking, going to the beach, and spending time with my family.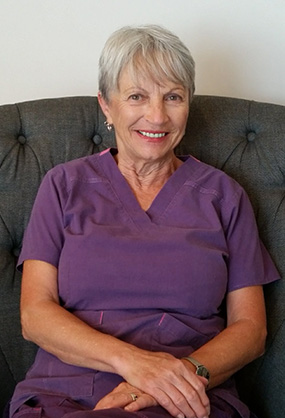 Eva
Lab Technician
Eva Fromm is a dental technician with over 48 years of experience covering nearly all techniques and materials used in the development and preparation of crowns, bridges, dentures and other types of dental prosthesis and devices.. She is a graduate of State Dental Technology School in Poland, holds a U.S. certificate in dental technology, and has completed many continued education courses in her field. Her past employers include Plaurum Dental Studio, Ray and Sam Contino DDS in Pasadena, and currently Sylvia Beeman DDS in Pasadena.
Her favorite activity is travel, reading and spending time with the family. She and her husband Carl, a retired engineer, embark on long trips overseas at least once a year and enjoy visiting with their two adult daughters and their families that include four grandchildren who are a special source of pride and joy for Eva and Carl.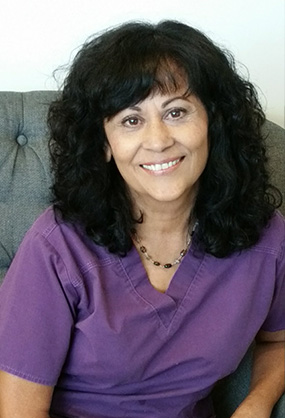 Marie
Registered Dental Assistant
I received my registered dental assistant and oral surgery license in 1996 and joined this office the same year. I assist Dr. Beeman with patient care, prepare and break down the room for each procedure, sterilize instruments, order supplies, and take impressions and X-rays. At our office, we work hard but have a good time doing it! The best part is talking to patients and getting to know them as part of our family of patients.
I am originally from San Francisco and have been blessed with two children and two grandchildren.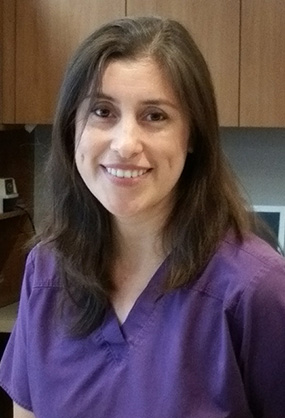 Modesta
Registered Dental Hygienist
I have worked as a dental hygienist for 18 years, the past 12 with Dr. Beeman. I am responsible for helping our patients achieve optimal oral health through cleanings, fluoride treatments, and X-rays. Education is also an integral aspect of my job. I enjoy interacting with patients and sharing with them my knowledge about preserving and maintaining their oral health.
I have been married for 20 years and have two daughters, one in college and the other in high school. I enjoy spending my free time with my family hiking or going to national parks. We also have three dogs, Chloe, Zoey, and Pancho.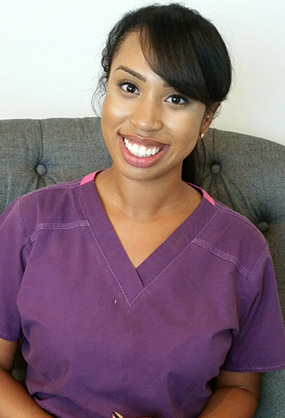 Nicole
Registered Dental Assistant / Front Office
I earned my license in dental assisting in 2012 and joined Dr. Beeman's office in 2013. When I'm not assisting with patient care, I work at our front office, where I greet patients and schedule appointments. I enjoy being a part of our hardworking team—we're serious about our jobs but also have a lot of fun!
When I'm not at work, I enjoy spending time with my son outdoors. I'm an animal lover and always up for the next adventure. I also love glitter!